What is a high-resolution orthopedic MRI?
At Insite Radiology in Jacksonville, we have equipped our private testing clinic with the latest technology and offer high-resolution orthopedic MRIs to detect conditions affecting the joints, bones, and muscles with extraordinary accuracy. These tests provide optimal diagnostic capabilities in assessing joint and other musculoskeletal injuries and conditions.
High-resolution MRI tests
While many MRI testing facilities rely on older equipment, at Insite Radiology, we are committed to providing our patients with the best that modern technology can offer. Our high-resolution 3 Tesla orthopedic MRI system produces clear, detailed images, far superior to what is generated with older, lower field 1.5 Tesla systems. Our fellowship-trained orthopedic radiologists can then accurately diagnose sports related injuries, joint degeneration, tumors, fractures, or other damage or diseases – in less time, and with enhanced patient comfort.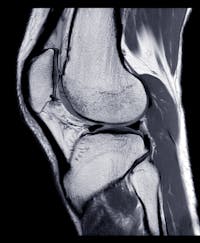 MRI Arthrography
Contrast dye is injected directly into the joint, rather than the vein, as in a standard MRI. The contrast dye allows the joint structures to be revealed with extreme detail and clarity, for an accurate diagnosis by our fellowship trained and board-certified radiologists. Despite its painful reputation, the vast majority of patients undergoing an MRI arthrogram at Insite Radiology experience no pain or discomfort, and it's not uncommon for the procedure to reveal an injury that conventional MRIs did not detect. The result of the MRI is produced almost instantaneously, evaluated onsite, and transferred digitally to your treating physician or surgeon. A high-resolution orthopedic MRI arthrogram may be necessary to diagnose damage to:
Wrist
Shoulder
Hip
Elbow
Knee
How does a high-resolution
3 Tesla MRI work?
Higher resolution images can greatly improve accuracy and can mean the difference between catching an injury and missing one when it really matters. Generally speaking, 3 Tesla scanners provide better image quality and require less time to scan than lower strength 1.5 T scanners. Equipment age matters too. Older scanners typically use older software which may not be able to take advantage of new technical developments that happen all the time in radiology. At Insite Radiology, we use 3 Tesla scanners outfitted with the latest technology and we update that technology regularly.
What is the procedure?
The joint, whether hip, elbow, knee, or wrist, is numbed with an anesthetic. Once numbed, the contrast dye is injected, guided by x-ray for accurate placement. A small amount of contrast dye will be injected into the joint being evaluated. You will then be asked to move the joint into various positions to ensure the dye fills the joint properly, after which the MRI is performed
Sports injuries
Our board-certified orthopedic radiologists are among the most talented, skilled, and educated in the state. We are often called upon to evaluate an injury suffered by a pro athlete or collegiate athlete and we offer the same level of service and expertise to the little leaguers, the weekend warriors, and everyone in between.
State-of-the-art technology at Insite Radiology
At Insite Radiology, we offer a fresh perspective on the experience of image testing. We believe our patients deserve testing on the most advanced testing devices available. Our high-resolution MRI system produces highly-detailed scans in much less time and greater comfort. Every test takes place at our newly-built, private imaging clinic in St. Johns Town Center, Jacksonville. Our board-certified radiologists are each fellowship-trained at elite institutions, including the Hospital for Special Surgery (the best orthopedic hospital in the country by US News and World Report), Mayo Clinic, and Johns Hopkins, and are among the most accomplished in their fields of practice.