Orthopedic imaging at Insite Radiology is performed with next-generation 3T equipment, above and beyond the industry standard. Expect comfort, exceptional care, and personalized service in a private, top-of-the-line environment in the St. Johns Town Center, Jacksonville.
MR arthrogram testing:
State-of-the-art diagnostic test
An MR arthrogram can often produce a higher level of accuracy than a standard MRI for evaluating joints, bones, bones, and muscle conditions. As a two-part test, an MR arthrogram requires an injection of contrast dye into the joint, not the vein, as in a standard MRI. The injection is guided by X-ray technology for accuracy and is typically painless. The injection is followed by a 3T MRI to achieve high-definition, accurate images of the joint structure.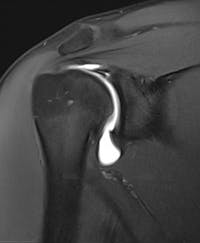 Candidates for MRI arthrograms
This testing procedure can be far more sensitive than a standard MRI for certain injuries. Your physician may order this advanced test if you have suffered an injury, are experiencing persistent or unexplained pain or discomfort, if the range of motion is affected, or the joint is not functioning correctly.
The test may also be ordered by your physician to identify other problems — such as tears in the ligaments, tendons, cartilage, or joint capsule — or to diagnose damage from a series of joint dislocations, or evaluate the condition of a prosthetic joint.
Advanced orthopedic imaging tests:
Insite Radiology
At Insite Radiology, we have taken orthopedic imaging to the next level. Our team of fellowship-trained medical doctors has advanced training at the country's most elite institutions, including the Hospital for Special Surgery, the Mayo Clinic, and Johns Hopkins. They are among the best radiologists practicing in the Jacksonville area, known for providing top-level patient care in every case. Their private, luxury clinic was built to provide a superior patient experience, faster, more accurate testing with state-of-the-art equipment, all in a gorgeous, newly-built facility in the St. Johns Town Center.
The Insite Radiology difference
At Insite Radiology, every detail of the experience of undergoing orthopedic testing is performed with a fresh perspective. The advanced equipment, skills of our doctors, and the gorgeous facility were all built to provide a higher level of service and care. Our patients are treated with respect, dignity, and compassion, and our advanced systems allow for faster testing, increased accuracy, and images that can be accessed digitally by medical providers through an advanced, cloud-based system.