Dr. Tate Greditzer is a founding partner of ORS and an orthopedic radiologist. His clinical expertise is in all facets of musculoskeletal radiology with a focus in sports medicine.
Dr. Greditzer attended the University of California at Santa Barbara as well as Bucknell University, where he played Division I Water Polo and was a member of the United States National Water Polo Team. He then completed a Master's Degree, with an emphasis in research, at Saint Louis University, in anatomy & neurobiology, before attending medical school at the Royal College of Surgeons in Ireland. Dr. Greditzer completed his radiology residency training, at the University of Miami/Jackson Memorial Hospital, in Miami, Florida.
Following residency, Dr. Greditzer completed two fellowships: first in musculoskeletal imaging and intervention and the second in musculoskeletal MRI, both at the Hospital for Special Surgery (HSS) in New York. HSS is a world leader in orthopedics and is ranked the No. 1 hospital in the country in the field. After fellowship, Dr. Greditzer became an Assistant Professor of Radiology & Imaging at HSS as well as an Assistant Professor of Radiology at Weill Cornell Medical College.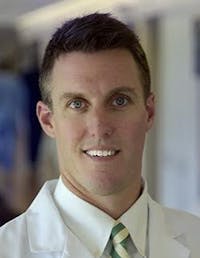 Dr. Greditzer is an accomplished researcher, with over 50 peer-reviewed publications and 4 book chapters in circulation. Dr. Greditzer currently serves on several research and education committees, including the Sports Medicine and Shoulder Service Clinical Review and Research Panel at HSS. He is an active member of both the American Academy of Orthopaedic Surgeons (AAOS) and the American Orthopaedic Society for Sports Medicine (AOSSM).
He also serves on the editorial board of the HSS Journal: The Musculoskeletal Journal of HSS and as a reviewer for several academic orthopaedic journals including the Journal of Sports Medicine (AJSM), Arthroscopy, and Clinical Orthopaedics and Related Research (CORR).
Dr. Greditzer has dedicated himself to musculoskeletal radiology and sports injuries and strives to help return patients back to their activities as quickly and as safely possible.